FOR ALL AGES - D-FantiX

QY TOYS

Speed Cube Bundle (2x2 cube, 3x3 cube, Pyraminx 3x3 cube) is the classic color-matching puzzle. Turn and twist the sides of the cube so that each of the six faces only has one color. Suitable for beginner and professional player

O STICKER REQUIRED – The stickerless speed cubes requires no sticker. No worry about stickers peeling off or fade

Easy Turning and Smooth Play - Improved anti-pop technology and structure for extremely fast and smooth cornering

EXCELLENT STABILITY - Great corner cutting ,Tension adjustable. It doesn't corner twist as often nor does it lock up. Difficult to pop, good control of the cubes, comes pre-lubricated and tensioned

ULTIMATE GIFT IDEA - No one falls out of love with the D-FantiX

QY TOYS

Stickerless Speed Cube Set. Perfect Christmas Gift / Birthday / Children's Day Gift Idea. This classic puzzle game will never go out of style
PERFECT CUBE COLLECTION
D-FantiX QY TOYS Speed Cube Bundle includes the complete 2x2, 3x3 and 3x3 Pyraminx collection. The stickerless cubes require no stickers at all. Vivid Color scheme bings you a different and delighted pleasant visual experience.  It strikes a good balance between affordability and performance. Suitable for beginner and professional player. Buy three and save!


BENEFITS of SOLVING PUZZLE CUBE
There are many benefits in learning how to solve the cube:
 
Improve your concentrations
Improve the hand-eye combination
Improve the spatial thinking increase IQ level
Improve overall cognitive skills
Keep the mind sharp in old age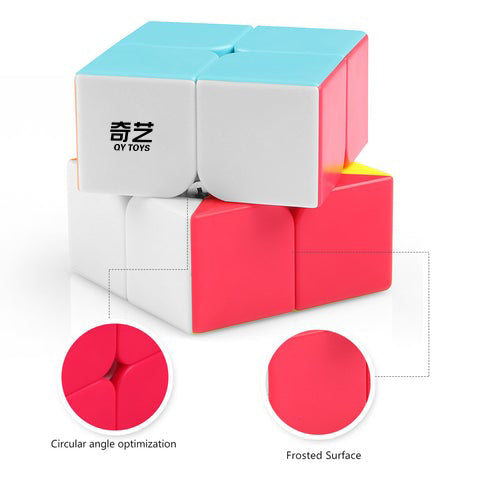 BEGINNER'S CHOICE
A performance-oriented beginner speed cube bundle containing 2x2 3x3 pyraminx cube and
three d-fantix stands for displaying your cubes.

ABS MATERIAL
Eco-friendly ABS plastic, safe and non-toxic. Harmless to human and environment.
Wear-resistant and durable

GREAT PERFORMANCE
Superb rotation, good fault-tolerant performance. Great corner cutting, difficult to pop, good control of the cube.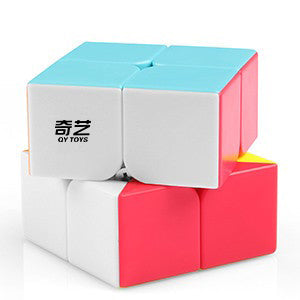 COME TENSIONED & LUBED
All the 2x2, 3x3, Pyraminx speed cube are fully adjustable and provides maximum customizability. Come tensioned and lubed already. When you get the cube, it's ready to rock!.

FROSTED SURFACE
QY TOYS makes a special artwork on the cube surface-- Frosted Surface Cube. It feels more texture and provide better grip hand feell. Avoid the scratches afterlong-time using.

HOURS OF FUN
The Magic Cube Bundle can foster your kid's sense of space and enhance a child's memory.
Solve it when each side matches. You can challenge the different difficulty level of the cube at one time. Enjoy hours of fun with you family and friends
GIFT IDEA FOR KIDS
Solving puzzles and brain teasers are important activities to teach kids to work hard at solving complex problems and foster your kid's sense of space and enhance a child's memory.
Whether you're trying to stretch your brain capacity or spending some leisure time with your loved ones, this would be a great gift for your kids
PRIDE of FULFILLMENT
Although the cube is comprised of various algorithms, there are a couple of things that are needed in addition to solving the puzzle. It definitely requires a certain amount of concentration and dedication. All you have to do is to pick one and get down to solving it. Whether you are figuring it out yourself or learning from a tutorial, there will still be an equal amount of trial and error. Irrespective of how long you take to solve it, the joy of arriving at a solution is unparalleled indeed. It is one you must experience at least once in your life and take pride in.
Description
Material: ABS
Dimension:
2x2: 50x50x50mm
3x3: 57x57x57mm
3x3 Pyraminx: 95x95x95mm

What's in the Box?
1 x QY TOYS Qidi S 2x2 Cube
1 x QY TOYS Warrior W 3x3 Cube
1 x QY TOYS Qiming Pyraminx Cube
3 x Tutorial
3 x D-FantiX cube stands
QUESTIONS & ANSWERS
Have a Question?
Be the first to ask a question about this.
Ask a Question