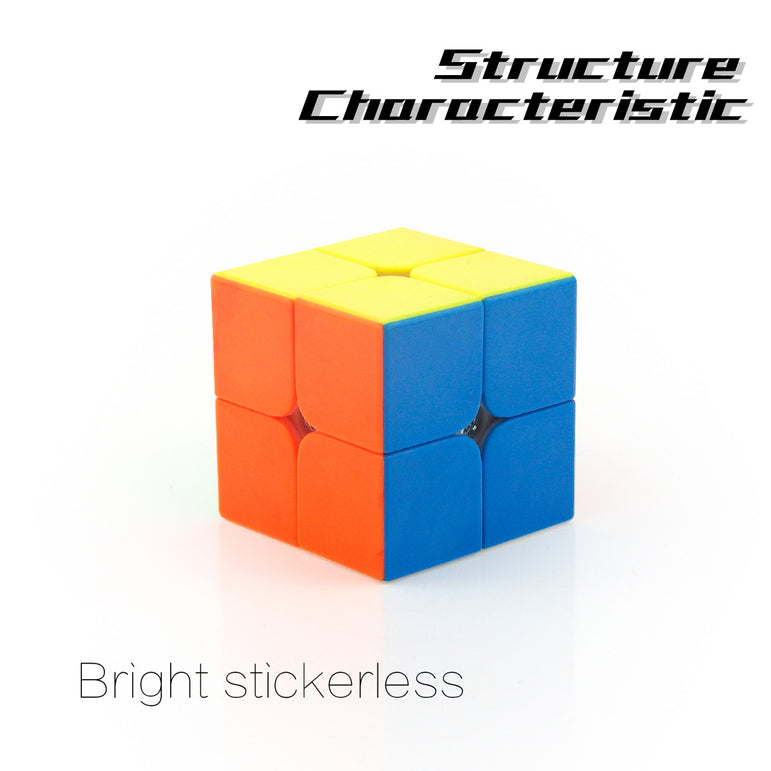 FOR ALL AGES - Moyu Mofang Jiaoshi MF2S 2x2 Magic cube stickerless suitable for all ages. Turn and twist the sides of the cube so that each of all the faces only has one color.

Suitable for beginner and professional player
EXCELLENT STABILITY - Great corner cutting ,Tension adjustable. This speedcubing doesn't corner twist as often nor does it lock up. Difficult to pop, good control of the

cubes, comes pre-lubricated and tensioned
EASY TURNING & SMOOTH PLAY - Improved anti-pop technology and structure for extremely fast and smooth cornering, Inner layer uses unified friction surface reduces

bumpy feel, bringing a more stable and comfortable hand feel!
HOURS OF FUN - The Magic Cube 2X2X2 can foster your kid's sense of space and enhance a child's memory. Solve it when each side matches. You can challenge the different difficulty level of the cubes at one time. Enjoy hours of fun with you family and friends
ULTIMATE GIFT IDEA - No one falls out of love with the puzzle cubes. Perfect Christmas / Birthday / Children's Day Gift Idea. This classic puzzle game will never go out

of style. GIFT BOX PACKING Gift box packing makes it a perfect gift for your kids
Moyu Mofang Jiaoshi MF2S magic cube 2x2 stickerless has has a very outstanding overall performance. It also has unified inner part and stickerless splicing structure, meanwhile no
bumpy feel when turning the cube. Hollow unified hidden edge in inner part avoids the unstable feel. Big round on the outer part makes the cube has a good corner- cutting!

COME TENSIONED & LUBED
This MF2S Mofang Jiaoshi 2X2X2 speed cubes is fully adjustable and provides maximum customizability. Come tensioned and lubed already. When you get the cube, it's ready to rock!


BENEFITS of SOLVING PUZZLE CUBE

•Improve your concentrations
•Improve the hand-eye combination
•Improve the spatial thinking increase IQ level
•Improve overall cognitive skills
•Keep the mind sharp in old age

ABS Material
Eco-friendly ABS plastic, safe and non-toxic. Harmless to human and environment. Wear-resistant and durable

Patent of 2x2 Cube
Positioning system inherits the patent of positioning system of Lingpo, with optimized mechanism and hollowed out unnecessary parts, Guanpo thus possesses more accurate inner-track parameters that avoid bumpy feeling while turning.

Unified Edges and Big Big Holes Design
Edges inside are unified, which reduces unnecessary combinations, avoids combining errors. Hollow design in big area avoids unstable and bumpy feeling. Corners, coordinated with big holes, avoid bumps and provides nice corner cuttings.

New Stickerless Structure Design
Bright stickerless Mofang Jiaoshi 2x2 Cube uses new stickerless structure design, outer part uses 3 colors pieces, inner part uses Integrated injection molding, improving the overall performance of the turning.

Specification
Material: ABS plastic
Color: stickerless
Weight: approx 68 g
Packing Weight: approx 78 g
Item Size: 50*50*50

What's in the Box?
1 x Mofang Jiaoshi Meilong 2X2 Speed Cube
QUESTIONS & ANSWERS
Have a Question?
Be the first to ask a question about this.
Ask a Question